Fractional Radio Frequency Gold Needle is a very successful treatment that minimizes unwanted appearances such as a blemish, acne scar and color differences on your skin.
Fine wrinkles on the face, form loss and sagging all over the body, skin rejuvenation, acne, burn and scar problems, detention bruises, post-pregnancy and post-weighting cracks, compression of the skin pores, acne skin problems, neck, tickle and decollete zone form losses can be solved with a golden needle.
Golden needle stimulates the lower layer of the skin with its head composed of microneedles. It is observed that the stimulated cells renew themselves for the regeneration and repair process.
Tightening and Coloring
The system, which can be recommended for every skin type, is especially important for skin rejuvenation. Most anti-aging applications provide faster and more visible results.
By stimulating the skin, the system triggers the production of collagen, hyaluronic acid, and elastin. The lifting effect observed in the self-recovering skin is tightening. The Gold needle, which is more preferred in the face, neck and hand regions, can be applied in most areas of the skin.
Stain Treatment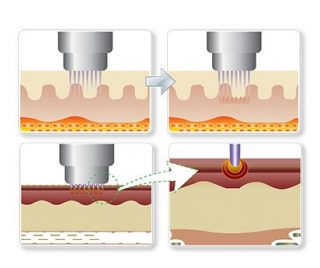 The Gold Needle, which is recommended for the treatment of scars and acne scar on the skin, provides the skin to be repaired and renewed with stimulated skin. In this way, the skin provides a renewal of the skin of the areas with the appearance of spots and minimizes the appearance of the stain.
Gold needle, which can be applied to all skin types and regions, also provides a significant improvement in stains and acne.
Stretch Mark Treatment
Pregnancy or rapid weight loss and stretch marks caused by the loss of skin, due to the loss occurs. Due to the inability of the skin to renew itself, a serious change in the appearance of stretch marks cannot be achieved. The oils and creams offered on the market nourish, moisturize and provide flexibility in order not to create new stretch marks, but existing stretch marks cannot have a big effect. Golden needle treatment stimulates skin renewal by stimulating the skin to replace the skin with the new skin and thus reduce the appearance of stretch marks.